Fishing at Leech Lake- the Agency Bay Lodge Difference
Agency Bay Lodge is a fishing resort and we think you'll find a taste of our knowledge and passion for fishing from the information below. No matter the fishing conditions, you will find that the staff of Agency Bay Lodge is ALWAYS dedicated to helping you catch fish.
The difference in Agency Bay Lodge?  The difference is that we fish.  We fish hard and we care about you catching fish.  Along with our time on the water and our partnership with local guides, we have the products that produce at your fingertips so no trip will be lost because you didn't have the goods.
Tackle Shop
One of our unique features at Agency Bay Lodge is that you will find a full-service tackle shop with gear you will need for all species of fish in Leech Lake but we specialize in gear for walleye and musky. We carry the best baits from the top brands in the colors and sizes that produce fish consistently on Leech Lake. Additionally, you will find that the gear in the shop does not have resort prices but prices you would expect to find at your most popular big box sporting goods stores.
Some of the Many Brands We Carry: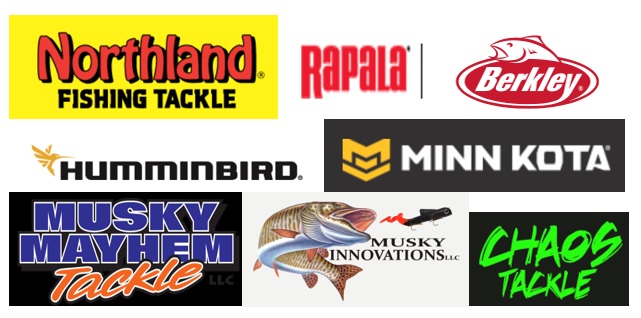 Some of the Feature Products We Have on Hand:
Walleye
-Flicker shads, Flicker minnows, Hit Sticks, and Rapala Shad Raps
-Northland Jig assortments including Fireball jigs, Eyeball Jigs, Glo Jigs, and Deep Vee jigs
-Berkley soft plastics and Gulp! Alive
-Slow Death rigs, Worm Harnesses and Spinner Components
-Hooks, Floats, Swivels, Weights, and all Terminal Tackle
-Blades, including Colorado, Smile, and Butterfly blades
-Berkley Lightning Series Trolling Rods and Fenwick Elitetech Walleye Rods
Musky
-Bucktails from Musky Mayhem- Including the new Trigger, Detonator, and 10-9 Combos.
-Difficult to find Jerkbaits from Chaos Tackle- Including the Navin and Roundnose Jerkbaits.
-Baby Beaver Baits- We can do a tutorial on the dock on how to fish these incredibly productive and versatile bait. This bait produces fish in all conditions and may be the best bait in my boat when fish are neutral or negative conditions.
-Musky Innovations Bulldawgs, Prodawgs, DoubleDawgs, and Swimming Dawgs- All in sizes, colors, and styles. that are specific to produce on Leech Lake. A killer assortment honed in on Leech fish.
-Stealth Tackle Leaders- The best leaders built specifically for the lures we use and the situations we use them in.
-Lakewood Tackle Boxes- Boxes that last a lifetime in multiple sizes and styles.
Bass/Panfish
-Assortment of spinnerbaits and buzzbaits for fishing the wild rice beds and reeds that Leech Lake is famous for.
-Some of the best tubes and tube jigs on the market for targeting our growing smallmouth bass population.
-Assortment of panfish jigs by Northland Tackle meant for attacking bluegill, crappie, or perch.
-All the jigs, floats, weights, and terminal tackle you might need.
GUIDES
We have partnered with some of the best local guides on the lake.  Although we pride ourselves on being knowledgeable of the lake, the fish, and current patterns, nothing substitutes for time on the water with a pro.  Below are a few of the local guides we work with.  We recommend you check out their website, follow their social media, and watch their YouTube videos.  Feel free to ask us for our recommendation and tell us what you are looking for!
Leech Lake
Leech Lake is Minnesota's third largest lake, and one of the lakes the Minnesota DNR qualifies as a "top 10" lake in the state, in terms of fisheries management for angling experience.
The Minnesota DNR has drafted a specific management plan for Leech Lake that includes stocking, habitat protection, and continued support for cormorant control. This, combined with the natural makeup and fertility of the lake, provides one of the best inland fishing waters in North America.
Leech Lake's 112,000 acres offers consistent angling opportunity for walleye, musky, northern pike, perch, and largemouth bass. Smallmouth bass populations are also increasing year over year, and panfish can be readily abundant.
Agency Bay Lodge Docks
Often overlooked is the quality of fishing off the docks. Panfish use the cover of the docks and boat lifts throughout the summer, and this can be fun to bring kids out and let them catch some fish. We do ask for "catch and release" fishing on our docks for these panfish, as visitors throughout the summer can enjoy this experience.
If you're wanting to fish at night, fishing with live bait under a lighted slip bobber or throwing crankbaits can produce walleye. Even though our beach is a shallow grade, after dark the walleyes will move in shallow to chase perch, panfish, and minnows. Catch and keep is allowed for this, although we do ask to practice "selective harvest".